I have to admit i love
Starbucks
but i ONLY ALLOW myself one drink every few weeks...$3.50 plus for a drink is nuts...What are your faves? Let me know because I'm ALWAYS ordering the same few drinks...LAME i know!
I love
Caramel Frappuccinos
w/o whipped (yea like that takes the calories down to nothing..LOL)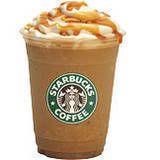 This is my summer fave...Tazo
Shaken Green Tea
lightly sweetened..YUM
On very cold days i love the Salted Caramel Hot chocolate....DELICIOUS
During the Christmas holiday they had these TASTY treats..YUM i miss them!
Peppermint Mocha twist
Pumpkin spice Latte..OH how i miss you!

And my two ALL TIME FAVES...Gingersnap Latte and Egg nog latte...(cant find a pic of the egg nog one)